We Fix All Types of Garage Door Openers
Whether your garage door opener is one of the latest ones with sensors and cameras or one that dates back to the 90s, we can fix it all. We have a seasoned team of hardcore garage door opener experts who live and breathe repair. So, regardless of the issue, you can be assured that we can fix it for you. All we ask is for you to call and schedule a visit!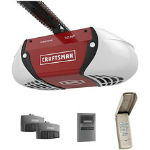 Quick and Effective Garage Door Opener Repair & Installation
Installing a garage door opener is an extremely difficult job. Many things need to be considered before the opener can be connected to the garage door. One mistake could mean that the opener is fried. That's why you always want to call leading garage door technicians like us to handle Opener Repair and installation.
Garage Door Replacement by an Expert Team
Every one of our team members is certified and has years of industry experience. They have been working as technicians with us for years which has included replacing many garage door openers. We are so confident in their expertise that all work they do is backed by a warranty along with all the aftermarket parts we replace. So, you can be assured of quality work carried out by professional, industry-leading technicians.
Complete Garage Door Replacement Maintenance Checklist
The best way to ensure that a garage door is thoroughly maintained is to have a checklist. We use a long and comprehensive checklist that checks and maintains every part of the Garage Door in our bid to ensure that it is reliable. We will inspect parts like the torsion springs, rollers, panels, chains etc. If we feel something needs to be replaced, we will report it to you at which point you can decide if it should be replaced. Replacing those parts will ensure trouble-free service life for a long time which saves you time, effort and money.